Thank you for comming to Azumino
Result


At the foot of Japanese Alps, Beautiful valley, Beautiful flowers,
And Barrier-free World.
With Shinshu Flower Festival
We will carry out the 14th Japan Trail Orienteering Championships with the Alps Azumino National Government Park and the Karasugawa Valley Park, which will be a sub-venue of "Shinshu Flower Festival" will be held from 25th April to 16th June 2019.
Please enjoy the world together with the map with these nature and flowers.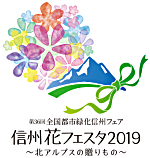 What's Trail Orienteering ?
Trail orienteering is an orienteering discipline centered around map reading in natural terrain. The discipline has been developed to offer everyone, including people with limited mobility, a chance to participate in a meaningful orienteering competition. (
more
)
Contact Parson : Koji Chino